Ullapool Lesuire Centre
Ullapool and Lochbroom Leisure Centre
Superb equipment, great facilities and a really friendly atmosphere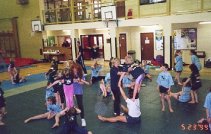 {Click Here for The Prices}{Click Here For The TimeTable}
{LifeGuards Wanted}
Lochbroom Leisure Center is situated in the centre of the village of Ullapool. It is composed of a beautiful 25m swimming pool and a large multi sports games hall with climbing wall.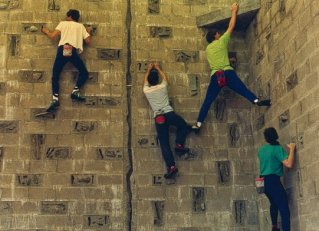 The pool offers a wide range of facilities for all ages, including a large inflatable for 8 – 14 year olds, as well as swimming instruction for beginners and experts of all ages from babies to senior citizens.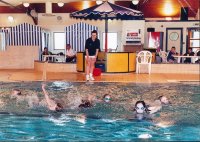 The Swimming Pool is owned and was built by the community after years of fundraising and donations by the people of Ullapool. In June 1994 our Swimming Pool was opened. The community company "Ullaspool" jointly runs the Ullapool Sport Center and Swimming Pool with the Highland Council.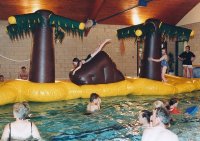 We cater for special events including birthday parties or group bookings. Durning the School holidays we run special programs to suit all the family both in the pool and in the games hall. We also run a loyalty scheme in conjunction with the other Leisure Centres in Ross & Cromarty which enables regular users to obtain discounted prices and other benefits.
Something For Everyone
Football
Roller-skating
Table Tennis
Short Tennis
Swimming Pool
Sauna
Tennis
Unihoc
Volley Ball

Archery
Badminton
Basketball
boules
Bouncy Castle
Climbing Wall
Fitness training
Indoor Bowls
Indoor Hockey
Our friendly staff will extend a warm welcome if you would like to visit us or if you would like more information, our telephone number is 01854 612884 and our fax number is 01854 612673.
Email: Lochbroom.leisure.centre@highland.gov.uk