Pipe Band
The History of Ullapool and Loch Broom
The Ullapool Pipe Band & Highland Dancers
Before The Pipe Band
Pipe Major Norman Gillies was a soldier serving in the Glasgow-based Light Infantry, while there he earned the reputation of being one of Scotland's leading pipers. In 1975 during April he was appointed as the first instructor for the schools of North West Ross-shire. It did not take long before he had dozens of pupils learning the chanter in Ullapool, Achiltibuie, Badcaul, Poolewe, Aultbea and Gairloch with a high number of the children graduating to play full-sized adult bagpipes.
How It All Started
On 3rd October 1977 a public meeting was held chaired by James Lavelle, in the village hall, due to the amount of pipers that were then in Ullapool and Coigeach , it was decided to form a pipe band, the name was chosen "Ullapool & District Junior Pipe Band" , the first duty on the committees list was to raise enough money to bit by bit equip the pipers and drummers with instruments and uniforms. Willie Macrae (a committee member) made an appeal to already established pipe bands, and got a great response from the Ardgay/Bonar Bridge Pipe Band, the Dingwall Royal British Legion Pipe Band and the 51st Highland Division Territorial Pipe Band by their donations of drums which were used for tuition. Drums we then purchased from the Isle of Skye Pipe Band for £80 and 7 good drums for £200 were bought from the Leyland (Scottish) Pipe Band, Liverpool.
Getting The Drummers
Although even in Pre-World War II years Ullapool had always had a good number of pipers like the late Donald Ross and the late Lewis born Donald Macleod, Drumming was something that had never been a practised skill in Ullapool or any of the Highland area. Kenneth Mackenzie while serving in the 4th Battalion Seaforth Highlanders during the 2nd World War had been taught in snare-drumming and became the tutor in basic snare, tenor & bass drumming for potential members of the Ullapool & District Junior Pipe Band. James Urquhart and Alex Strutt succeeded him.
James ("jimmy") Urquhart lived in Maryburgh and for over ten years travelled once a week the 90 mile round trip to Ullapool to teach the youngsters. What more could they ask for as James formerly was with a leading Glasgow pipe band, he was enthusiastic and dedicated to his pupils and trained them to a very high standard. So much so that his excellent standards have rubbed off on some of the senior pupils who in turn are now competent tutors themselves to younger and new members alike.
The Uniform
An appeal letter was sent to organisations and individuals from all over. This resulted in a total sum of £2000 being rasied which was quite a lot of money back then. The pipe band committee could now buy uniforms.
Mackenzie (Seaforth Highlands) Kilts
Green Barathea Jackets
Dress Mackenzie tartan ties, waistbelts, hose flashes, Glengarries
Seaforth Highlanders Glengarry Badges
Inverness Capes.
Interestingly all the pairs of hose were knitted by committee members and locals like Mrs. Chrissie Macdougall, and Mrs. Mary Morrison.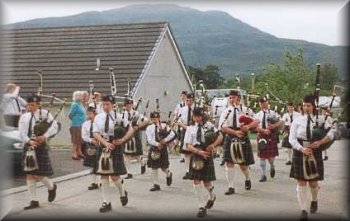 First Public Performances
With no publicity the Ullapool & District Junior Pipe Band with 9 pipers and 6 drummers made the first appearance parading on the Ullapool Pier on Saturday 27th July 1979.
Due to the success of there debut invitations flooded in from Lochinver and Maryburgh to perform there. Another performance was given on the Ullapool Pier only this time the pipe band were accompanied by 4 dancers from the "Ben Wyvis" School of Highland Dancing. There tutor being Mrs Dorothy Gollan.
During the summer months of 1980 there were 18 performances but not only in Ullapool, they also attended the Dunbeath Highland Games, the Ardgay/Bonar Bridge Gala Day, Inchnadamph, Lochinver and their debut in Achiltibuie.
Up To The Present Day
Since the "early years" of the Ullapool & District Junior Pipe Band they have gone from strength to strength in all areas, more pipers and drummers, more and better equipment, and with the annual support from the Ullapool and Coigeach committees their finances have improved. As well as the local committees the North British Hotels Trust have provided great financial aid, and not to forget the generosity of tourists and locals alike who attend the performances through out the summer months.
The Pipe band and Highland Dancers for many years have also played and danced for the much loved Queen Mother at her annual "Highland Games" at the Castle of Mey. Lets all wish them the best of luck and hope that the Ullapool & District Junior Pipe Band & Highland Dancers grace our summer months for many years to come!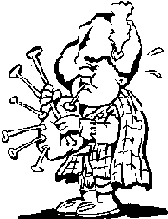 Use the menu below for a walk through the past history of Ullapool. If there is anything you would like to add or if indeed you have some old photos of Ullapool and its people we would love to hear from you.