Before 1788
The History of Ullapool and Loch Broom
Before The Ullapool We Know Today
By K.J.B.S. MacLeod in "A Guide to Ullapool"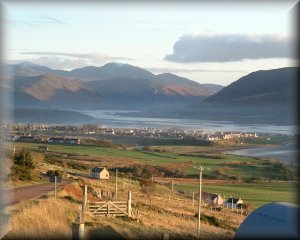 Whilst 1788 was a memorable year in the history of Ullapool, representing the beginning of the creation of the village as we know it in its present layout and pattern, there was life in the area long before the "British Society for Extending the Fisheries and Improving the Sea Coasts of This Kingdom of Great Britian" (Yes that was the proper name of the British Fishery Society!) decided that Ullapool would be one of their fishing stations and that a village would be laid out in the grid pattern we know so well today.
The deed which recorded title of the land at Ullapool to the Society is dated 15th September 1804 and was conveyed by John Lord MacLeod, the heir to the third Earl of Cromartie, on 25th February 1788. He came into the owner ship of Coigeach (which included most of Lochbroom and of course Ullapool) by Act of Parliament on 18th August 1784, which restored the estates, which had been forfeited by his family after the 1745 Rebellion.
The Cromartie Estates (amongst others) were permanently annexed to the Crown by an Act of Parliament of 1752. Cromartie had been a prominent Jacobite and spent some years in the Tower of London; indeed as he had raised troops for Prince Charlie from Coigeach soon after Culloden "a squadron of the King's vessels, under the command of Ferguson appeared off the Lochbroom coast and dropped anchor" (Ardmair Bay). " A strong party landed there and proceeded up the Strath as far as the residence of Mr. Mackenzie of Langwell, who was married to a near relative of Earl George of Cromartie. Mr Mackenzie got out of the way; but the lady was obliged to attend some of her children who were confined by smallpox. The house was ransacked, a trunk containing valuable papers and amongst them a wadset** of Langwell and Inchvannie, from the Earl of Cromartie, was burned before her eyes; and about fifty head of black cattle were mangled by their swords and driven away to the ships". (The New Statistical Account Volume 14).
As far back as 1698 Sir George Mackenzie of Tarbat, "in association with Sir William Binning, set in motion a prototype fishing station at Ullapool with the intention of developing the export of salt herring from Wester Ross to Stockholm, London and France. The effort was renewed a dozen years later. In 1712 he expressed his frustrations pointing out that herring were so abundant in Lochbroom that the people were using them for manure, yet hardly a Scottish boat was to be seen. Capital, transport and salt tax were the great impediments to development. In fact it was not until the growth of Glasgow as a port, and as a exporter of salt and dried fish across the Atlantic for the slave trade, that the commercial fishing of the remote north west coast became feasible." (Richards and Clough: Cromartie, 1989)
But how did Coigeach, Lochbroom and Ullapool come into the hands of Cromartie Estate? Again we find Richards and Clough giving an Answer "Coigeach had changed hands with the changing fortunes of Highland nobility through the Middle Ages, belonging in turn to MacLeod, Mackay of Strathnaver, the Earl of Ross and again to Macleod of Lewis. It was disputed territory until the early seventeenth century; the claims of the MacLeods and the Mackenzies for both Coigeach and Lewis remained unsettled until a key marriage resolved the issue (and indeed the armed conflict) and Coigeach became the westernmost extremity of the Mackenzie estates. The formal contract for the wedding of Sir Rorie Mackenzie with Margaret Macleod was made in Dingwall in May 1605 and the Coigeach Charter was confirmed by the Crown in 1609 and was then held in the family for the next four centuries…." Well, not quite but we are now back in 1605 and still peering in to the mists beyond.
Jean Dunlop's book on The British Fisheries Society has a plate of a survey of 1775 by William Morrison of Ullapool farm. Ullapool is spelt "Ullapooll" and there seems to be evidence of houses or buildings in groups and some strung out. They appear to be about twenty two buildings and a road round where West Argyle Street and West Terrace presently are; the pier did not exist but off shore is written "In this Bay Ships frequently Anchor in 5,6 and 7 fathoms". Twenty-two buildings (and three in Morefield), a mill at the river and roads in 1775 appear to indicate a reasonably substantial settlement: obviously the fishing settlement established by Tarbet still functioning at a fairly low key.
Can we go further back than 1698 as far as Ullapool is concerned? Well, if we examine Atlas Novus, published in 1654 by Joannem Blaeu, there are 49 maps of Scotland. His book is a compilation of maps and of interest are two, one of which can definitely be ascribed to Timothy Pont and is entitled " Aebudae Insulae Sive Hebrides: "The Western Isles of Scotland". Part of the main land is shown and although the detail is sketchy there is clearly shown "Ullabil" on "loch Breyn", "Ardmery" on "Loch Caneyn", Innerlael, and Glastullich; the area is clearly marked "Coygach".
Timothy Pont travelled over most of Scotland compiling his maps between 1583 and 1596. So Ullapool was in existence in 1596 at the latest, according to Pont's maps. Just what it consisted of then is difficult to tell, but his pattern was to mark places where people lived so evidently a settlement was in existence when the notes for his maps were made – he visited each place personally. In 1563 the General Assembly of the very new Church of Scotland appointed Donald Munro "Commissioner of Ross" and by "1574 ten ministers and twenty five readers were labouring in Ross-shire. The county was divided in to ten districts each combining several charges". (The Day of the Fathers, Kennedy). It is likely that Lochbroom/Coigeach was one of the districts but evidence is lacking.
A minute of Presbytery dated " Kenlochewe 9th September 1656″ notes that "Mourie has his monuments and rememberances in several parochins within the Presbyterie, but more particularly in the parochins of Lochcarron, Lochalsh, Kintail, Containe, Foddertie, and Lochbroome". Who was Mourie? This is where we take the largest leap back in history. He was a Celtic saint, "Maelruba", later Maolrubha, corrupted in to Mourie and Maree. He came form Ireland in 671 and in 673 he founded The Church of Applecross, from which "as centre he evangelised the whole of the western districts between Lochcarron and Lochbroom……." (Skene).
In 722 Saint Maelrubha is said to have been murdered by Norwegians at Urquhart (Ferintosh) in Ross, (Origines Parochiales. Maelrubha was following in the footsteps of St. Martin of Isle Martin fits into the jigsaw. He may have been a colleague of Maelrubha, or earlier or later. St Martin's Cross at Iona is unlikely to be directly related to him; it is more likely to be named after St. Martin of Tours, created Bishop of Tours in 372 whose teaching later influenced Columba.
But with Maelrubha we are back around 700AD on the shores of Lochbroom before any Norseman called Ullap or anything else came plundering. If Maelrubha was evangelising obviously there were sufficient people around to make his journey worth while and monuments seem to have been erected to his memory and survived as late as 1563. This alone is a powerful pointer to settlements on Lochbroom in the seventh and eighth centuries.
** Wadset n: An obsolete Scottish form of Mortgage
Use the menu below for a walk through the past history of Ullapool. If there is anything you would like to add or if indeed you have some old photos of Ullapool and its people we would love to hear from you.