Ship Hector
Ship Hector
FROM OLD SCOTIA TO NOVA SCOTIA
Reported by Andy Mitchell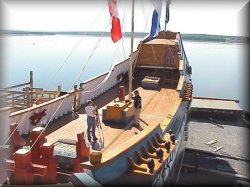 Photo Curtesy of www.townofpictou.com
An On a bright June morning in 1773 the old Dutch vessel, Hector was moored in Loch Broom, close to the small settlement of Ullapool, taking onboard a group of people from the Highlands. These people were joining a few others who had already joined the ship in the Clyde area. All the people had one thing in common. They wanted to find a new land where they had freedom to speak their Gaelic language, play their music and wear their cherished tartan. It was only 28 years after the Battle of Culloden and life in Scotland was hard and repressive.
189 passengers comprising 25 single men, 33 families, a piper and their agent had joined the ship and were willing to start a new free life in a new land.
The dangerous voyage took three months to complete. The ship was old and built to carry cargo; not passengers. There was sickness aboard and several passengers died. Spirits were not dampened and, in fact, raised when a healthy child was born as they were close to the North American coast.
They came ashore at the small but unhostile Indian settlement of Pictou. They arrived just as the harsh winter was setting in.
Life was hard but these people had their freedom and survived that first winter and proceeded to tame a small part of that wild continent.
They never forgot their Scottish heritage and called the new land Nova Scotia.
Today the small town of Pictou is a proud and thriving place. The Gaelic language still exists, tartan is proudly worn and Highland music is sung, played and enjoyed.
About 10 years ago an ambitious plan was launched. It was decided to rebuild an exact replica of the Hector. Money was raised by local and corporate effort and amidst great enthusiasm the vessel was rebuilt to the exact specification of the original vessel.
On Saturday 16th September 2000 the new Hector was launched as part of a great celebration.
Lochbroom FM had contacted the local Radio Station covering the Pictou area, CKEC New Glasgow to discuss possible links on the day. The management of CKEC was tremendously hospitable to our request and through their Internet service we covered the launch of the Hector live in our own area through Lochbroom FM's transmitters on 102.2.
CKEC also asked one of our presenters, Morag Anna MacLeod, to join the CKEC team covering the event as she was already in Pictou in her capacity as Gaelic Development Officer.
We've both come a long way from those hard days when that old Dutch ship slipped out of Loch Broom so we should celebrate on both sides of the big pond. We owe it to these brave people to never forget their struggle for a new life.
Reported by Andy Mitchell
Use the menu below for a walk through the past history of Ullapool. If there is anything you would like to add or if indeed you have some old photos of Ullapool and its people we would love to hear from you.