Watersports In Ullapool
Watersports In Ullapool
Charter Boats, Diving Fishing, Cruises, Boat Rentals and Watersports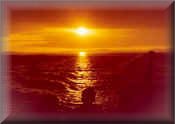 Ullapool Boat cruises
From the Ullapool Pier you can take a Boat trip on Loch Broom there are Three boats to choose from. 45 mins to 4 hour cruises take in the beauty of Loch Broom and the Western Isles, encountering local seabirds, seals and even a unique chance to see Dolphins swim. The Summer Queen even stops on Tanera Mhor, the last inhabited Summer Isle and the last place in Britain to print its own stamps. The Sunset Cruises will take your breath away.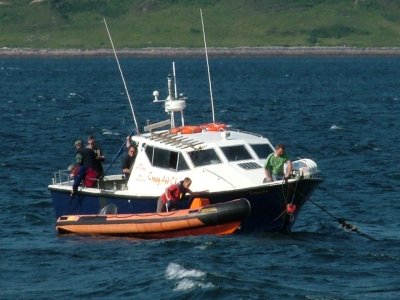 Creag Ard Charters
Boat Charter Service for scuba diving, sea fishing and scenic day trips around Ullapool and The Summer Isles in Wester Ross, Scotland. The 38 foot is available for charter all year round, cruising at 18 knots it is licensed for 12 persons. If you are looking at having a diving holiday around Scotland then Camusnagaul, near Dundonnell is a must for one or more days scuba diving around Ullapool or the Summer Isles. The skipper can pick up at Ullapool for scuba diving the nearby wrecks, or for a days fishing off the Summer Isles.
"If you are a wreck diver, why not come along and dive on one of Scotland's newest wrecks "Jambo", This Cypriot registered vessel, which sank after hitting rocks off the Summer Isles on 29th June 2003, is 61 meters long and was carrying a cargo of zinc concentrate which has now been safely removed. – "The Boston Sterling, another trawler which sank, is 33 meters in length and is noted for its highly photogenic qualities or The famous "Conservation Cave", also known as the "Cathedral Cave". Phone +44 (0)1854 633380 or mobile +44 07715 075460 or creagard-charters@supanet.com.
Sailing in to Ullapool
Pier & Harbour Trustees Pier,
Tel: 01854 612091
Ullapool, Ross-Shire, IV26 2UH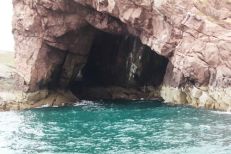 Breckon Marine Charters Diving-Fishing Charter Boat
Breckon Marine Charters aims to make your holiday one never to forget our skipper and crews will be onboard through out your trip to answer any questions and give a helping hand. Extreme Sea Angling – 100M and beyond – Ullapool is our main port and base on the west coast at the centre of the summer isles. the summer isles are a group of twenty plus islands all bar one are uninhabited, they offer some of the best diving in Europe with clear gulf stream waters you will see dolphins whales and other marine life. Diving – we start our season at Scapa flow and dive the German high seas fleet, plus the other wrecks located within Scapa flow.