Hill Walking in/near Ullapool
Walking & Hiking In Ullapool
Guide to Ullapool Walking & Hiking
There are many walks which are so varied you decide what to include mountains, rocky coasts or long inland footpaths. The choice of mountains to climb is enormous and the area has a good portion of the finest summits in the North-Western Highlands.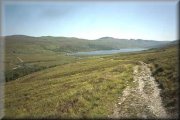 Ullapool Hill
To get the most wonderful views of Loch Broom and the village a hike up the Ullapool hill is a must. It starts on North Road (A835) near the Far Isles Restaurant, just north of the Pottery and school where there is a sign "Ullapool hill path". Parking is limited but plenty of places nearby you can park or if staying in the village of course you can just walk to the start. Allow 2 hrs to get to the top (300m or 900ft) & back. You can also make a longer circular walk (about 3 hours) by turning right after leaving the top of the hill towards Loch Achall, then return by Rhidorroch estate road. Details & map available at Tourist Information Centre..
Rated: Easy Walk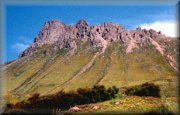 Stac Pollaidh
The small mountain of Stac Pollaidh with breathtaking views out over the Inverpolly Nature Reserve and Suilven is 1800 ft high. Allow at least 2 hours. Take rocky and well-defined path which at first glance seems to be heading right up the front of Stac Pollaidh, you have a choice near the of a short and steep scrambles up to the narrow ridge, or a longer but less steep path.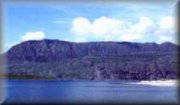 Ben More Coigach
From Ullapool head north towards the Coigach and Assynt mountain ranges to find Ben More Coigacg. Part of the lower slopes is RSPB Reserve, the views extend out to the summer Isles and on a really clear day from the west the outer Hebrides can be seen. The ridge of Ben More Coigach stands almost 2500 feet high and runs for several miles.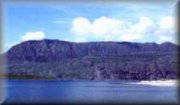 An TeallachAn Teallach
An Teallach (1380m) is about 5 miles from Ullapool and has lots of airy scrambling. If you like something a little challenging and have a head for heights this may be the one for you, it towers above Little Loch Broom and as such is a a well known landmark – to traverse all the pinnacles(including the pinnacles of Corrag Buidhe) directly involves rock climbing up to Difficult in standard. Various paths avoid the pinnacles on the south side and can be accessed from Dundonnell . The last of the pinnacles is Lord Berkeleys Seat where if you feel brave enough you can sit with your legs hanging over the drop. In winter the mountain can be considered out of bounds to the inexperienced. Allow at least 8 – 9 hrs Two munroes rated challenging.