Council News
Lochbroom and Ullapool Highland Council News
29 Market Street, Ullapool, IV26 2XE
Tel: ++44 (0)1854 612426
or ++44 (0)1854 612717
Wester Ross Local Plan Update
Wester Ross Local Plan Replacement
The Highland Council "have decided to adopt the replacement of the Ullapool, Gairloch Village, Lochbroom Landward, Applecross, Gairloch & Lochcarron Local Plans in the Spring, unless, before the replacement has been adopted the Scottish Ministers direct that replacement of the Plan shall not be adopted until further notice, or shall not have effect until further notice or shall not have effect unless approved by the Scottish Ministers."
You can view the replacement plan Here
Or pop along to
– the Council Service Points in Ullapool and;
– the Libraries at , Ullapool or community post offices at Achiltibuie, Applecross, Aultbea, Dundonnell, Gairloch, Inverasdale, Kinlochewe, Kishorn, Laide, Lochcarron, Poolewe, Strathcarron, Strath, Ullapool; to ask for a copy
The deposited documents are available for inspection free of charge during normal opening hours from Friday 10th February 2006.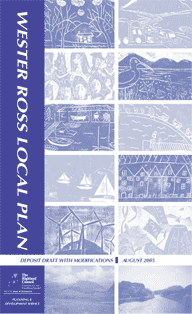 Wester Ross Local Plan On-Line
The Council has also launched an interactive version of the Local Plan which can be accessed here. This version of the Plan allows you to find out what the Local Plan says about any location in Wester Ross at the touch of a button.
It will show you a map of the area you are interested in, as well as all the Local Plan policies that apply. The Council would be interested to receive feedback on the usefulness of this version of the Plan, and the e-mail address is wester.ross@highland.gov.uk."
The plan follows on from the production of a comprehensive set of topic papers which was published earlier last year. View the Plan Online Here
Further information on the plan and copies of the topic papers are available from: The Highland Council web-site at www.highland.gov.uk.
HIGHLAND COUNCIL AGREES 4.5% COUNCIL TAX RISE
Highland Councillors have approved a rise of £49 at Band D for the Council Tax. This represents a 4.5 % increase on last year's figures.
In setting a budget of £488 million, the Council agreed the following charges in 2006-2007: –
A £756.67; B £882.78; C £1,008.89; D £1,135; E £1,387.22; F £1,639.44; G £1,891.67 H £2,270.
Councillors decided not to set an indicative tax increase for 2007-8. They agreed instead that Convener Alison Magee should seek a meeting with Finance Minister Tom McCabe to highlight the special challenges and high costs that face a council which delivers essential services to a rural and sparsely populated area.
The Council has also confirmed that an increase in council house rent in the new financial year should be contained at the Retail Price Index plus 1 % ie 3.4%. The average rent increase in 2006-2007 will be £1.86 per week, increasing the current weekly average rent to £55.64 (over 48 weeks).
Useful Links:
Click this link to bring up the latest list of Highland Council documents connected with Ullapool.
Click this link to read The Highland Council News Index dating back many years